SBIRT (Screening, Brief Intervention, Referral to Treatment) represents an innovative, evidence-based approach to addressing unhealthy alcohol use with adolescents. Its core components include:
Regular and universal screening for substance use
Universal and routine use of validated screening tools
Consideration of substance use as a continuum rather than a dichotomous "addicted versus not addicted" judgment
Use of patient-centered change talk versus directive, prescriptive talk
Facilitating smooth, bidirectional transitions between primary care and specialty addiction treatment.
While SBIRT has is widely recommended by adolescent health organizations, it remains under-implemented in school based health clinics. Common perceived barriers include limited time during the patient visit, lack of knowledge and training, fearing negative patient reactions, and feeling uncomfortable discussing substance use. This website presents information and tools designed to counter these barriers.
Why is it worthwhile for school based health clinics to implement SBIRT? Consider these reasons: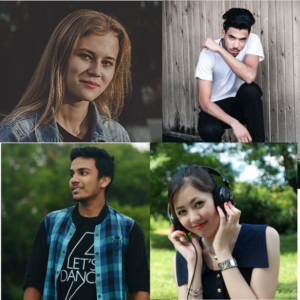 Adolescent substance use is common. Almost 70 percent of high school seniors in the United States have tried alcohol, 50 percent have used an illegal substance, almost 40 percent have smoked tobacco, and more than 20 percent have abused prescription drugs1. When school-based heath clinics implement SBIRT, they are addressing a behavior common among teenage students. Adolescents use substances for many reasons. The adolescent brain is oriented to favor new experiences and engage in risky behaviors, meaning drug use may coincide with these normal developmental urges. Adolescents may use substances as they seek to find out who they are as individuals, try to deal with problems, do better in school, or react to social pressure from friends.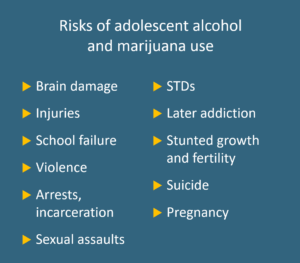 Adolescent substance use can result in negative consequences. A number of negative consequences are more likely to occur when adolescents use substances like alcohol and marijuana2-7. Teens are less accustomed than adults to experiencing the effects of alcohol and drug use, which means tragic consequences can result even when using the first time. Adolescent brains are especially vulnerable to addictive behaviors because they are still developing. Like primary care and pediatric health settings, school-based health centers play an important role in conveying clear and consistent messaging about the perils of using substances during adolescence.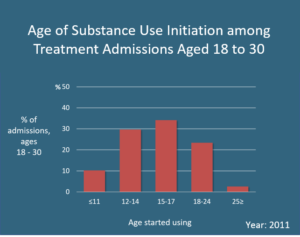 Adolescence is a critical time to prevent later addiction. When health professionals implement the SBIRT model with adolescent patients, they are acting to, 1) help delay initiation of use with teens who have not tried substances, 2) increase the motivation of teens who do use to cut back or abstain, and, 3) help teens experiencing a substance use disorder get help through specialized treatment. Because the large majority of Americans experiencing a substance use disorder started using before the age of 188, health professionals can play an important role in preventing addiction later in life.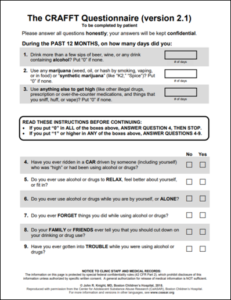 Screening tools work. Screening instruments such as the CRAFFT and the S2BI are validated specifically with adolescents, take little time to complete, and are feasible for routine use in healthcare settings. These screening tools can be administered verbally by a health professional or self-administered by an adolescent patient. By scoring answers to just a few questions, health professionals can quickly learn how often an adolescent uses substances, which substances are used, and what consequences the adolescent is experiencing associated with use. These tools also indicate to the health professional what response is most appropriate.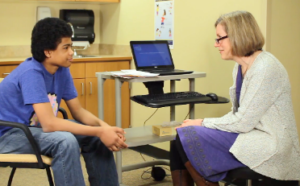 Brief Interventions are well suited for adolescents. Short conversations that employ principles of motivational interviewing have been shown to increase the likelihood that an adolescent will cut back or abstain from substance use. Motivational interviewing is a technique well suited for adolescents because of their desire for autonomy and resistance to authority. Health care professional can learn how to perform effective perform brief interventions by participating in a short training session.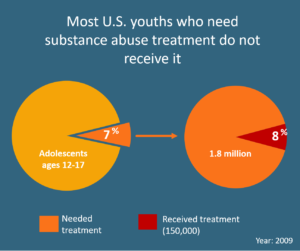 Most teens who would benefit from treatment do not receive it. There is a large gap between the number of adolescents who need specialized treatment and the percentage of those who actually obtain it9. By identifying these students and proactively connecting them to further assessment, health professionals increase access to critical services. Several types of treatment are available specifically for adolescents, and studies show they can produce outcomes such as decreased use, decrease criminal involvement, and improved psychological adjustment and school performance.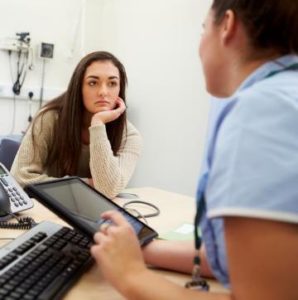 There's room for improvement. Many health care professionals do not routinely address substance use with adolescent patients. In one study, 82% of 10th graders reported seeing a doctor in the past year, but only half of them were asked about drinking alcohol10. Of those who were frequent drinkers, only 25% were asked. Meanwhile, only 27% of marijuana users were advised to reduce or quit by a doctor. Failing to ask about substance use is a missed opportunity to provide important care. By implementing a standardized SBIRT workflow, school-based health clinics can help ensure all patients are responded to with the appropriate brief advice, brief intervention, or referral to treatment.
References:
Johnston, L.D.; O'Malley, P.M.; Bachman, J.G.; and Schulenberg, J.E. Monitoring the Future National Results on Adolescent Drug Use: Overview of Key Findings, 2013. Bethesda, MD: National Institute on Drug Abuse, 2013. Available at www.monitoringthefuture.org
Hingson, RW; Heeren, T; Jamanka, A; Howland, J. Age of drinking onset and unintentional injury involvement after drinking. JAMA 2000;2841527- 1533.
Hingson, R; Heeren, T; Zakocs, R. Age of drinking onset and involvement in physical fights after drinking Pediatrics 2001;108872- 877
Hingson, R; Heeren, T; Levenson, S; Jamanka, A; Voas, R. Age of drinking onset, driving after drinking, and involvement in alcohol related motor-vehicle crashes. Accid Anal Prev 2002;3485- 92
Hingson, R; Heeren, T; Winter, M; Wechsler, H. Early age of first drunkenness as a factor in college students' unplanned and unprotected sex due to drinking. Pediatrics 2003;11134- 41
Hingson, R; Heeren, T; Zakocs, R; Winter, M; Wechsler, H. Age of first intoxication, heavy drinking, driving after drinking and risk of unintentional injury among U.S. college students. J Stud Alcohol 2003;6423- 31
McGue, M; Iacono, W; Legrand, N; Elkins, I. Origins and consequences of age at first drink, II: familial risk and heritability. Alcohol Clin Exp Res 2001;251166- 1173

"Age of Substance Use Initiation among Treatment Admissions Aged 18 to 30" SAMHSA – The TEDS Report. http://www.samhsa.gov/data/sites/default/files/WebFiles_TEDS_SR142_AgeatInit_07-10-14/TEDS-SR142-AgeatInit-2014.htm

Mitchell, SG; Gryczynski, J; O'Grady, KE; Schwartz, RP. SBIRT for adolescent drug and alcohol use: Current status and future directions. Journal of Substance Abuse Treatment (2013), http://dx.doi.org/10.1016/j.jsat.2012.11.005
Hingson, RW; Wenxing Z, Iannotti, RJ Simons-Morton, B. Physician Advice to Adolescents About Drinking and Other Health Behaviors. Pediatrics 2013;131;249.