Health professionals can use validated screening questionnaires that are easy to administer, take little time to complete, and effectively measure where an adolescent lies on the spectrum of substance use. While these tools below are not diagnostic, they have been tested to make sure they accurately identify the appropriate response and level of care.
Screening tools may be administered in a variety of formats and platforms, including face-to-face interview, self-administered via paper and pencil, or electronically. Research has shown that adolescents report greater comfort and likelihood of honesty with self-administered questionnaires (electronic versions or on paper) compared to face-to-face interviews.
To ensure confidentiality, some clinics set aside a private corner of the waiting room for adolescents to complete the screen. Other offices find it more practical to have patients complete the screen in the exam room prior to their appointment with their clinician. The most important principle is to ensure that parents cannot see their children's responses, so that adolescents feel comfortable reporting honestly.
CRAFFT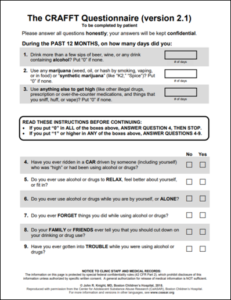 The CRAFFT (a mnemonic acronym of first letters of key words in the six screening questions) is a widely used screening tool developed by Center for Adolescent Substance Abuse Research (CeASAR) at Boston Children's Hospital. The CRAFFT can be self-administered or delivered through a clinician interview. and asks adolescent patients about substance use in the past year as well as associated consequences. The latest version, CRAFFT 2.1+N, adds a new question that includes vaping. This version is available in multiple languages. Free to use with permission.
S2BI
The S2BI (Screening to Brief Intervention) is a new tool developed at Boston Children's Hospital with support from the National Institute on Drug Abuse. The S2BI asks about frequency of use concerning seven types of substances, which has been shown to correlate with the presence of a substance use disorder. The S2BI is frequently used in correlation with the CRAFFT questions. Free to use with permission.
Access the S2BI
Access the official guide to using the S2BI
BSTAD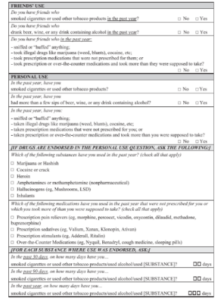 The Brief Screener for Tobacco, Alcohol, and other Drugs (BSTAD) is a longer questionnaire that builds upon a brief screening instrument first developed by the National Institute on Alcohol Abuse and Alcoholism. The BSTAD asks questions about frequency of substance use during the past 30, 90, and 365 days. Questions are asked in an order that distinguishes between 12- to 14-year-olds and 15- to 17-year-olds. There is no need to score the instrument. Currently available online only. Free to use.
Access the BSTAD online screening tool
CHISPA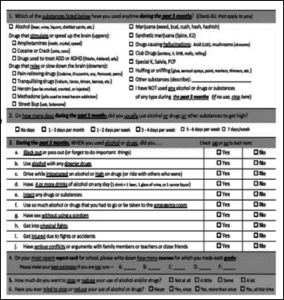 The CHISPA (Cocaine, Heroin, IV drugs, Synthetic pot, Pot, Alcohol) is a new, longer screening tool developed at the University of New Mexico designed to inform a brief intervention with adolescents. It asks about substance use in the last three months, assesses readiness to quit or reduce use, and asks about past quit attempts. Free to use with permission.