Emerging Models and Resources to Address Food Insecurity in School-Based Health Centers
This toolkit seeks to highlight promising practices for integrating nutrition and food access into school-based health center services as an approach to address social drivers of health, improve food security for families and support student success and wellness.  
NKH and the SBHA believe that by working together to embrace and build on families' trust in SBHCs, we can promote federal nutrition programs and nutritious food consumption in support of positive health outcomes and improved food security for families.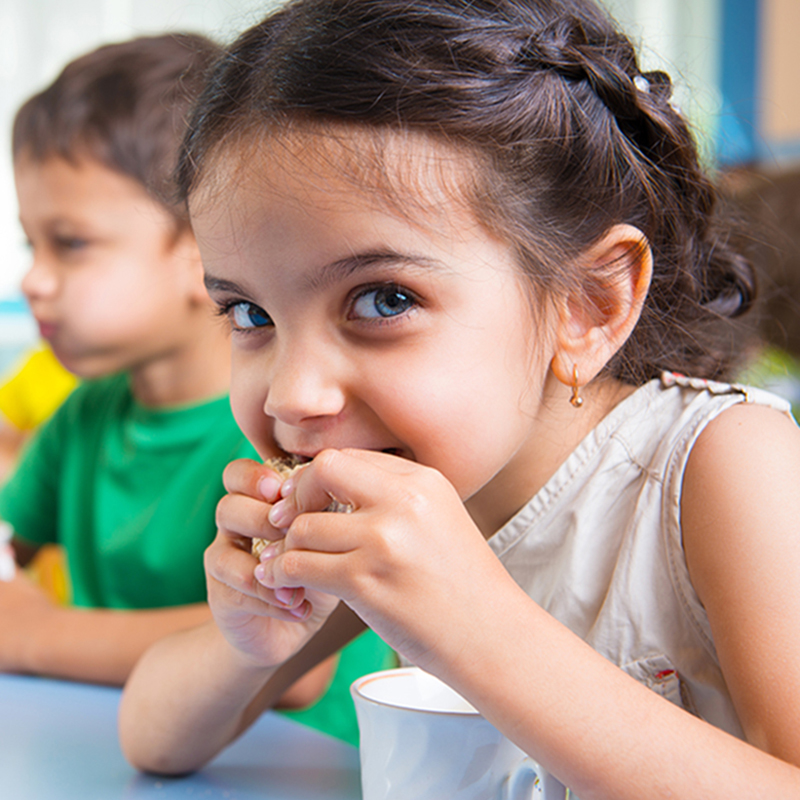 This toolkit offers promising practices gleaned from a cohort of 16 SBHCs (see acknowledgements above) that participated in a year-long food access learning network facilitated by Share Our Strength's No Kid Hungry and the School-Based Health Alliance. The School-Based Health Center Learning Network (SBHCLN) explored new food security initiatives at the intersection of school environments and healthcare systems. The SBHCLN consisted of health center leaders and champions who came together to plan and implement a community-driven food security solution in their health center.  SBHCLN members participated in monthly sessions to learn from each other and other experts in this work.  The SBHCLN sought to achieve three goals:
i) Create or expand a local health center model that identifies food insecure students and connects them and their families to healthy food resource(s) and nutrition education; 
ii) Evaluate the model to understand the impact on (1) Student health outcomes, (2) Student food security, and (3) Student fruit and vegetable consumption; and 
iii) Develop promising practices for integration of food security models in school-based health clinic workflows and preventative care.   
The purpose of this toolkit is to support SBHCs in the critical work of ending childhood hunger in their communities.   The SBHCLN collective learnings along with complementary best practices for addressing food insecurity in healthcare settings are compiled in this toolkit.  By offering real world examples along with tools and materials developed by the SBHCLN, the toolkit seeks to support other centers with tangible resources.  The SBHCs participating in the SBHCLN represented a diversity of settings, capacities, communities and school environments, allowing for wide variety of approaches to addressing food security.  However, the approaches and lessons included in the toolkit are not exhaustive and should be considered as a starting place for SBHC's interested in tackling food insecurity as a social driver of health.   
Toolkit Purpose and Overview
Food Insecurity and Connections between food insecurity and health
No Kid Hungry is a campaign of Share Our Strength, an organization committed to ending hunger and poverty.  We believe no child should go hungry in America. But millions of kids in the United States face hunger today. No Kid Hungry is working to end childhood hunger by helping launch and improve programs that give all kids the healthy food they need to thrive. Learn more about how NKH helps children thrive, here. 
The School-Based Health Alliance works to improve the health of children and youth by advancing and advocating for school-based health care. We believe that all children and adolescents deserve to thrive, but too many struggle because they lack equitable access to health care services. School-based health care is the solution, bringing health care to where students typically spend the majority of their time: in school. When health and education come together, great things happen. Attendance improves, conditions like asthma or diabetes are better managed, and behavioral health issues get quick, expert attention. And we all know that healthy students make better learners. Over the past few years, communities have experienced different barriers to access for school-based providers. However, we strongly believe that school-based health care is more than just the facility or physical space it exists in. It comprises a network of relationships, a history of collaboration, systems of communication, and formal agreements that continue to expedite access and service provision to young people even if the building is closed.  
Cindy Leung, ScD, MPH, Assistant Professor, Nutritional Sciences, University of Michigan School of Public Health

Kofi Essel, MD, MPH, FAAP, Pediatrician, Speaker, & Director, GW Culinary Medicine Program

 

Dr. Sandra Hoyt Stenmark, Clinical Professor of Pediatrics, CU School of Medicine

 

Kelsey Long, MPH, Project Policy Analyst, Center for Vulnerable Populations, Zuckerberg San Francisco General Hospital

 

Kendall Arlasky, Health & Wellness Coordinator, Outside In

 

Hannah Smith, School Health Analyst, Oregon School-Based Health Alliance

 

Chloe Eberhardt, Senior Program Manager, Center for Best Practices, Education & Training, No Kid Hungry

 

Kelley McDonough, Associate Director, Center for Best Practices, Education & Training, No Kid Hungry

 

Shameka Davis, MPA, Program Manager, School-Based Health Alliance

 

Topaz Arthur, Manager, Education & School Food Partnerships, No Kid Hungry Campaign

 

Malvern School and Community Health and Wellness Center, Malvern School District, Malvern, AR
Mt. Healthy School-Based Health Center Food Pantry, The HealthCare Connection, Cincinnati, OH
Caroline and Talbot County School-Based Wellness Centers, Choptank Community Health System, Denton, MD
Four Corners Youth Clinics @ SWOS and Dolores Campus, Four Corners Youth Clinics, Cortez, CO
Moorefield High School, E. A Hawse Health Center, Inc., Moorefield, WV
Hornet Health Center, Health Department of Northwest Michigan, Pellston, MI
Turner Elementary School-Based Health Clinic, Albany Area Primary Health Care, Inc., Albany, GA
Alanson Wellness Program, Health Department of Northwest Michigan, Alanson, MI
MetroHealth School Health Program, The MetroHealth System, Cleveland, OH
Port Chester Middle School, Open Door Family Medical Center, Port Chester, NY
South Cameron High School, SBHC CHRISTUS Ochsner Health Southwestern Louisiana, Grand Chenier, LA
The Counseling and Medical Place (The CAMP) at Tahquamenon Area Schools, LMAS District Health Department, Newberry, MI
Stephens School-Based Health Center, Little Rock School District, Little Rock, AR
Rush SBHC at Orr Academy/KIPP One, Rush University Medical Center, Chicago, IL
Pinellas County School-Based Health Centers, Florida Department of Health in Pinellas County, St. Petersburg, FL
Rising Star Elementary, Neighborcare Health, Seattle, WA